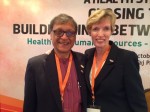 During the Premier Christy Clark India Trade Mission, a symposium was planned which covered joint work between BC Educational Institutes and Indian partners. The symposium was cohosted by BCIT, CINS, PHFI and B.C. Council of Internal Education. The session took place on October 14th 2014 from 9am to 4pm at the Taj Palace in New Delhi. The symposium was designed to build networking opportunities and open possible opportunities for both B.C. institutes and Indian partners in the broad area of health and education.

The morning session provided an update on the Allied Health Project in India and its impact on health services planning. Speakers shared BCIT's experience in curriculum development and clinical training and human resources in Primary Care. The afternoon session explored technology and health. Other plenary sessions included Trauma Care, an emerging epidemic in India and possible role of Allied Health Training and a session on Nursing Education and the B.C. experience at Langara College.
The Canada India Network Society (CINS);The British Columbia Institute of Technology (BCIT) collaborated  with Public Foundation Of India (PHFI) to develop support for Allied Health Education Program of the Government of India. The Allied Health Project is a major initiative of the Government of India and both BCIT and CINS, see this partnership with PHFI as mutually beneficial in building long term links in Health Education. Honourable Amrit Virk, Minister of Advanced Education and the Government of India addressed the session along with senior members of the Ministry of Health Government of India.
"I was delighted to share in the progress and ongoing work, which continues at CINS. We were delighted to be part of Honorable Christy Clark's, visit to India. We are very pleased that the major recommendations from CINI 2014 are being followed up with the creation of this session in New Delhi. This will continue to build on the support and ongoing collaboration which BCIT and PHFI and CINS have developed. A tripartite memorandum was signed two years ago and we look forward to playing a key role in supporting development of the major initiative on Allied Health and Training programs at the national and regional level in India," said Dr. Garg, Chair and President of CINS.
In addition, the role of Technology and Health was focused on and the experience of collaboration between SFU and Indian Institute and UBC and Aravind was shared along with the work of PHFI in development of technology in health care delivery.
Beside the delegation from the Premier's mission, leaders from academic, industry, health, government and community from India will attended the session. The session was part of the follow up from CINI 2014 (www.thecins.org) and CINS plans to build on the ongoing mandate.
For further information contact Arun Garg at arun@thecins.net; Lawrence Gu at Lawrence_gu@bcit.ca; or Randall Martin at martin@bccie.bc.ca
India Trade Mission >> Health and Indian Symposium Invitation
Summary: Closing the Gap – Global Networking Workshop on South Asian Health Research